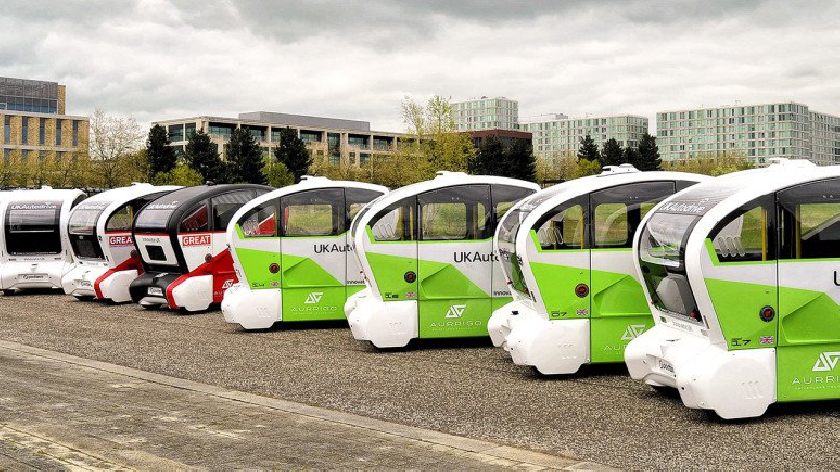 10 pods arrive for use in the next stage of UK Autodrive that will shortly see self-driving vehicles taking to the pavements and streets of the town.
Ten pods are now finished and being fine-tuned for their autonomous control systems before they will form part of the whale (the collective name for a fleet of pods) that could be doing up to 120km of journeys every day.
The plan is to go live with passengers in the Summer when up to 40 pods, capable of travelling up to 15 miles per hour and lasting up to 60 miles off one charge, will operate from Central Station to Campbell Park and Silbury Boulevard to Avebury Boulevard.
Dr Richard Fairchild, director of autonomous mobility programmes at Aurrigo, says, "This is another major milestone for UK Autodrive and our country's desire to be at the forefront of new transport solutions.
Many people saw these vehicles being tested in the centre of town as MK looks to lead the way in autonomous travel.
Dr Fairchild continued, "We have been testing the first two vehicles around MK and there has been plenty of interested onlookers asking us questions, some of which were a lot more technical than we expected.
"Having a 'whale of pods' to test will deliver the data and user experience we need to turn this project from a trial into an everyday part of Milton Keynes life."
Aurrigo has invested heavily in the development of a control centre in the town centre and has recruited the first three people to support the roll-out as part of what will eventually be a ten-strong team.
This gives the company the presence on the ground it requires to safely and effectively oversee the testing before it goes live.
Dr Fairchild says, "We want to get people talking about driverless vehicles as a possible solution for the 'first and last mile' part of the journey. The more pods people start seeing, the more the conversation will gather pace."
UK Autodrive, which is funded by Innovate UK, is an ambitious three-year project that is trialling the use of connected and self-driving vehicles on the streets of Milton Keynes and Coventry.