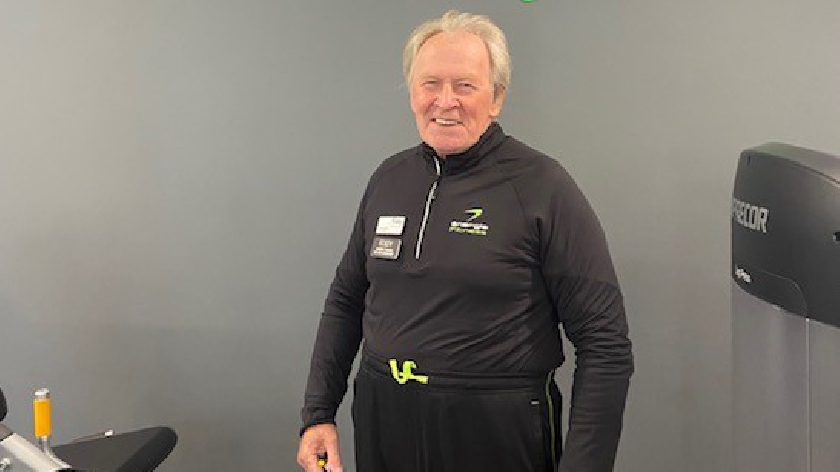 Eddy Diget, who is celebrated as being the UK's most senior personal trainer at 76 years old, finds getting back to work the best medicine after a long year of lockdown restrictions.
Eddy has recently started work at énergie Fitness after he thought he was going to have to hang up his trainers for good when his old gym closed its doors for the final time last December.
The previous gym he worked at, DW Fitness, had only just been taken over by Everlast, but in February this year it was announced that it would be closed for good.
This was tough news for Eddy as the club had been his home for nine years. On top of this, Eddy has also recently been battling a resurgence in bowel cancer and has only recently completed a round of treatments.
However, Eddy didn't let this get him down. He speaks of his experiences under lockdown as he said: "COVID-19 and the year of national lockdowns have meant that many fitness businesses and individual practitioners across the UK have lost their jobs or income.
"It's been really tragic to see. This February it looked like I may be joining that sad statistic. I was very saddened at first by the news of the gym closure. But at 76 years old I've had worse knocks and I decided that I would not let this event or my battle with cancer prevent me from following my passion in life - training and supporting people who want to achieve their fitness and mental well-being goals."
The fitness expert and Royal Navy veteran did what he knows is the best thing to do when times are tough. Eddy took positive action when many in his situation have decided to look for another industry to work in.
He added: "At my age, money isn't the issue any more, it's all about doing something that keeps you happy, active and mobile. It didn't take me long, In fact, it only took a week to find my new fitness home!
"I had heard and seen such amazing things about the locally owned énergie Fitness gym based in Kiln Farm and run by local couple Rob and Claire. I reached out to them immediately and arranged to meet with them and see their lovely site. Straight away I felt that I had found the place where I belong.
"I feel over the moon to be back working again and it's the icing on the cake that I've found such a wonderful club!"
Rob, from énergie Fitness, explained how great it was to have Eddie join the team as he said: "We've been open for a few days now and already Eddy is making a fantastic impression on our members and the team around him.
"I feel strongly that this word is bandied about these days far too easily, but I would describe Eddy, with all his life achievements, irrepressible energy and determination to succeed through tough times, as an absolute legend!"
Eddy, giving advice to anyone who has been feeling the strain of repeated lockdowns and perhaps work/financial concerns, said: "Never give up on your passions in life.
"Despite the tough times we might be going through now, always look ahead, look forward to the positive things you can do to help yourself or others. It's these things that will keep you going and will ultimately lead to the best things happening in future.
"Remember, this time will pass and will become a distant memory soon enough. I should know, I lived through enough tough times and have always come through the other side with a smile on my face!"