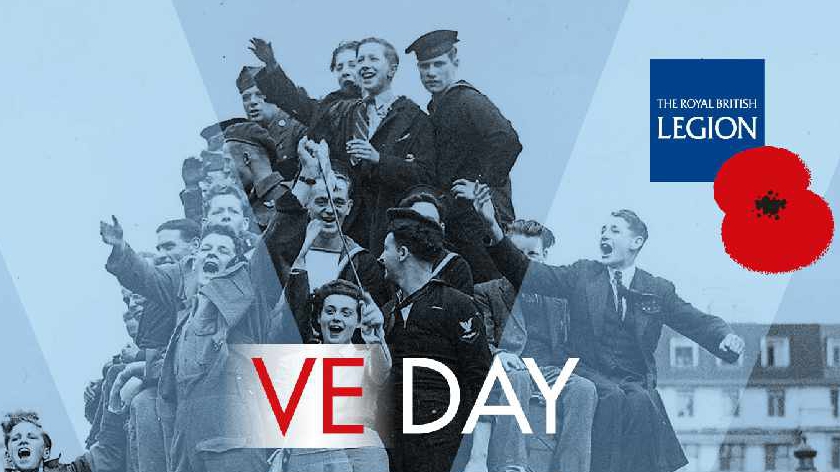 Today, the nation celebrates the 75th anniversary of VE Day! Find out what is going on throughout the day here...
11am -
A two-minute silence to honour those who made sacrifices during the Second World War. It will also be used to reflect on the impact that COVID-19 has had.
11:15am -
The Royal British Legion will begin hosting a VE Day 75 livestream. It will include interviews from people that have experienced WW2, and interviews from people fighting on the frontline against coronavirus.
2:45pm -
Sophie Raworth will present VE Day 75: The Announcement of Victory on BBC One. It is about Winston Churchill's victory speech given on this day 75 years ago.
2:55pm -
Musicians are invited to play The Last Post from their homes.
3pm -
Bletchley Park will also be marking the 75th anniversary of VE Day online with a digital 'Nation's Toast' at 3pm, and a special recording of a VE Day speech by 'Prime Minister Sir Winston Churchill'.
People throughout the nation are also invited to take to their doorsteps to raise a glass and cheer during The Nation's Toast to the heroes of WW2.
The official VE Day website reads that there'll be a chant of the phrase: "To those who gave so much, we thank you."
7pm -
Channel 5 are showing archived film clips from people that celebrated VE Day on May 8th 1945.
8pm -
Usually, people take to the streets for live events and street parties on VE Day. Unfortunately, due to the coronavirus pandemic, people are now having to stay at home. So, as a result, BBC One is hosting a musical celebration.
Shane Richie and Beverley Knight are amongst the names performing famous songs from the 1930s and 1940s.
9pm -
The Queen will be addressing the nation in a pre-recorded speech at the exact same time her father, King George VI, addressed the nation on 8th May 1945.
It will be followed by a nationwide singalong of Vera Lynn's We'll Meet Again, which will be broadcast on BBC One.
9:10pm -
BBC One will be airing a programme where famous faces reflect on their memories of VE Day in 1945. David Attenborough, Miriam Margolyes, and Bruce Forsyth are amongst those featured on the show.
How will you be celebrating VE Day 2020? Are you having a traditional afternoon tea, decorating your house in bunting, or dressing up for the occasion? MKFM would love to hear from you! Get in touch here.
Content sourced from Bletchley Park, Sky News, and The Sun.