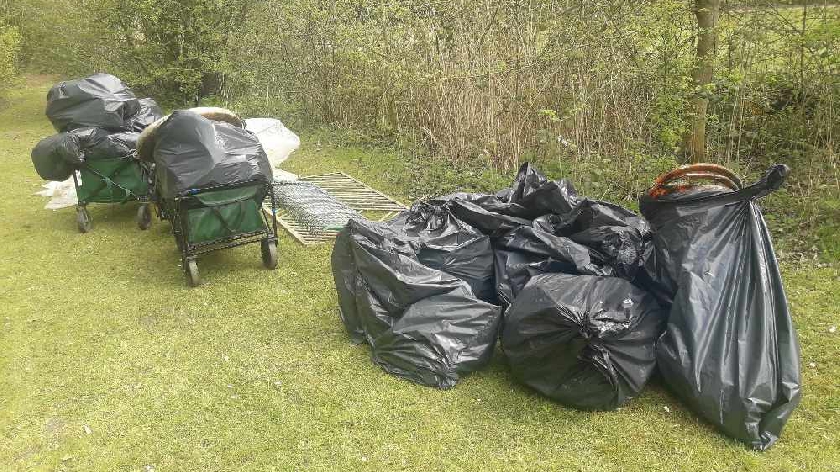 Photo: The Parks Trust
Volunteers have been busy collecting rubbish at a popular beauty spot - and they have collected over 70kg's worth.
Littering is something that has increased rapidly during the pandemic, especially at times when residents emerged from lockdowns and visited local parks for their daily exercise.
At the start of June 2020, The Parks Trust collected over 800 bags of litter from Milton Keynes' parks in just one week alone.
This even led to children creating 'do not litter' signs and pinning them up in popular walking areas, including Bury Fields in Newport Pagnell.
It seems the problems have continued, with many communities regularly organising litter picks.
The Parks Trust, which is a self-financing charity, says that littering costs them £350,000 per year. This is money that could be spent elsewhere on activities or improving facilities.
And to help combat this ongoing problem, a group of volunteers took to Lodge Lake to clear up litter and fly-tipped waste.
It is one of the smaller lakes in the city, and a walk around it takes just thirty minutes, but the litter that was collected is rather surprising.
Over a three hour trip, the volunteers managed to collect fourteen black sacks worth of waste. These bags weighed over 70kg, which is the average weight of a woman in the UK.
Thank you to a group of our volunteers who spent yesterday clearing litter and fly tipping at #LodgeLake.

Over a 3 hours they managed to collect 14 black sacks weighing over 70kg!

Please support us in keeping our parks wonderful places to be by taking your litter home 🚯 pic.twitter.com/heotGdd40f

— The Parks Trust (@TheParksTrust) April 22, 2021
The Parks Trust regularly posts on social media requesting that members of the public dispose of litter properly, or take it home with them.
There are often instances where people will leave rubbish next to, or on top of, rubbish bins if the bins are full - but this is still classed as littering.
The Parks Trust has even had to start fining people £80 for dumping their rubbish in their parks, even though this makes them no extra money.