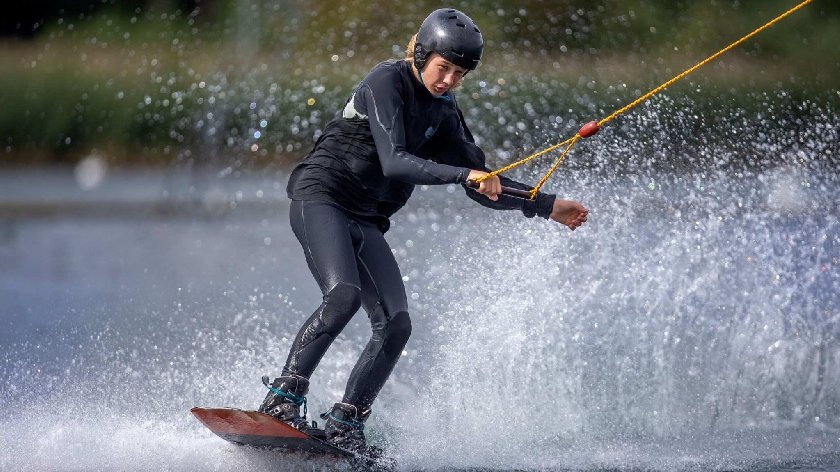 Willen Lake in Milton Keynes have announced that wakeboarding will resume from Saturday 30th May.
It will be the first activity to resume since the start of the coronavirus lockdown when all activities were suspended.
Willen Lake say they will now offer '2-hour wakeboarding sessions to competent riders with their own equipment.'
The sessions can now be booked online via the Willen Lake website.
A number of restrictions to keep people safe have been put in place. These include:
Arrival at site
Please complete the Declaration of Risk and Medical Disclosure form before arriving, you will find the link on your booking confirmation email.
Participants are not to arrive at the facility more than 30 minutes before their booked session.
No spectators or family members are permitted to accompany participants.
If a participant is driven to the facility by a member of their same household, the driver will not be allowed into the former spectator area.
Upon arrival the reception door will remain open at all times for ventilation, and only one customer will be permitted to enter the reception at any one time. No transactions or bookings are to take place at reception, the customer will simply provide their bar code to be scanned for proof of booking, and then asked to make their way through to the main area.
There will be no access to changing rooms – participants should arrive "ready to go", change in car or use a poncho or suitable towel to change in outdoor spaces.
Signage and/or floor markings will be in place to remind customers of social distancing guidelines.
Participants should not have to open doors. Disinfectant sprays and disposable paper towels will be available at each potential contact spot and instructions on correct use displayed.
During check-in, face coverings should be worn by staff, and participants will also be encouraged to wear them.
Good hand hygiene is always to be observed and participants should be encouraged to bring their own hand sanitiser.
There will be limited toilet facilities on site.
Activity
No beginners will be permitted, and all participants will have to provide their own equipment including helmet, buoyancy aid, board/bindings and wet suit.
Only one participant will be allowed on a sloped starting dock at a time, on horizontal starting docks and queuing areas, floor markings and/or signage will be in place to ensure participants maintain social distancing.
Participants are not to touch any area on the dock with their hands, signage should be displayed to notify them of this.
Handles will be sterilized between use and the operator will wear gloves. There will be no training member of staff on the dock, and handles will be swung from the operator to the experienced wakeboarder.
Participants should stay within their skill level and comfort zone avoiding unnecessary risk of injury.
At all times when participants are not on the water, they will be required to remain apart, which should be reminded with the use of signage.
End of activity
Participants are not to leave equipment unattended after their session has concluded, whilst they are preparing to leave the facility.
To ensure that total concurrent site visitors are kept to a minimum, all participants are to leave the facility via an the exit gate, and not through the reception area as quickly as possible after the conclusion of their session, and at all times maintaining social distancing.
There is a hand sanitising station at the exit gates, and all visitors should be encouraged to sanitize their hands at the point of exit.
These procedures are supported by British Waterski and Wakeboarding, and a link can be found here on their guidance: https://www.bwsw.org.uk/news/when-we-return-to-the-water-guidance-and-legislation/
First Aid
If a person requires first aid (i.e. unable to self-manage injury) then attendant first aider should, if possible, ask injured person to cover mouth and nose and face away from first aider. Clean hands before and after treatment and avoid touching any wounds or bodily fluids.
Sanitiser to be available in rescue boats.
If emergency situation or serious incident, call emergency services. In event of cardiac arrest, get help (emergency services), practice breathless CPR, send someone to get the defibrillator if possible. Wear gloves from first aid kit. Wash or sanitise hands thoroughly afterwards. Ring NHS 111 and seek post event guidance (may require testing).