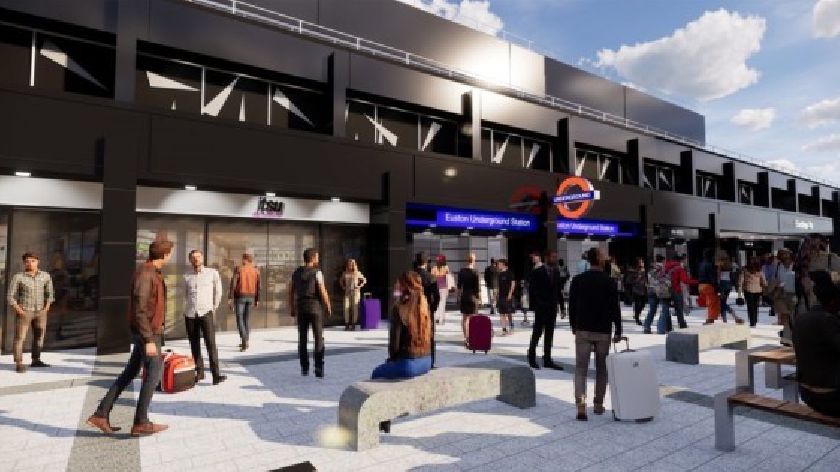 There will be major disruption to trains through Milton Keynes over Easter and early May bank holiday.
Euston station will be closed over the next two bank holidays to make passenger flow much smoother through the station.
Platform ramps will be widened, retail units will be removed, and staircases will be updated to ensure customers can get between trains and the concourse quickly and safely.
A new outside entrance for the London Underground is also being built.
Euston's 1960s-built concourse handles many more passengers per week than it was originally designed for, and with demand for rail travel increasing it must now be updated.
The upgrade is also needed for the arrival of HS2 – Britain's new high-speed railway.
The Easter and early May bank holiday work at Euston is being carried out because no trains are running to or from the station due to other major engineering work on the West Coast main line.
Joe Hendry, station manager at London Euston, says, "Euston is going through a real transformation, giving one of the capital's major transport hubs some much-needed attention.
"There is no good time to completely close a railway station, but the most effective time to do it is when other major work further up the West Coast main line is taking place.
"While we understand it will be inconvenient to some passengers travelling over the holidays, this work is essential for the long-term future of the station and to make things better for the tens of thousands of people who start and finish their journeys at London Euston every day."
Euston will be closed over the Easter weekend (19-22 April) and the early May bank holiday weekend (4-6 May) with no trains in or out of the main line station on those days.
This will have a major impact on journeys including alternative routes, longer travel times and busier trains than normal.
The best time to travel will be on days before and after the bank holiday weekends.
Network Rail has been running a marketing campaign since February warning train customers of the impacts of Railway Upgrade Plan work, advising passengers to travel either side of the bank holiday weekends and to check www.nationalrail.co.uk for the latest travel information.
Martin Frobisher, route managing director for Network Rail's London North Western route, says, "Train companies and Network Rail have worked together to minimise disruption for customers by doing a lot of work over the Easter and early May bank holidays. The alternative would have been closing the line and Euston station over multiple weekends throughout the summer."
Jonny Wiseman, customer experience director for London Northwestern Railway, says, "Closing a major mainline station for works is never going to be convenient for passengers, but we have a tried and tested plan for operating buses to connect with alternative routes to and from London when Euston is closed. Our aim is to keep people moving as far as possible if they have to travel on the days affected by these works, but we are advising passengers to travel on alternative days as these options will take significantly longer."
Peter Broadley, executive director for customer, operations and safety at Virgin Trains, says, "With no services into or out of Euston we strongly advise our customers to avoid travelling to and from London on the days affected. We know this will impact on people's travel plans, so to make it easier we have removed afternoon peak time ticket restrictions from London on Maundy Thursday to allow customers to make an earlier start to their Easter weekend."
Passengers can plan their journeys and check before they travel at londonnorthwesternrailway.co.uk