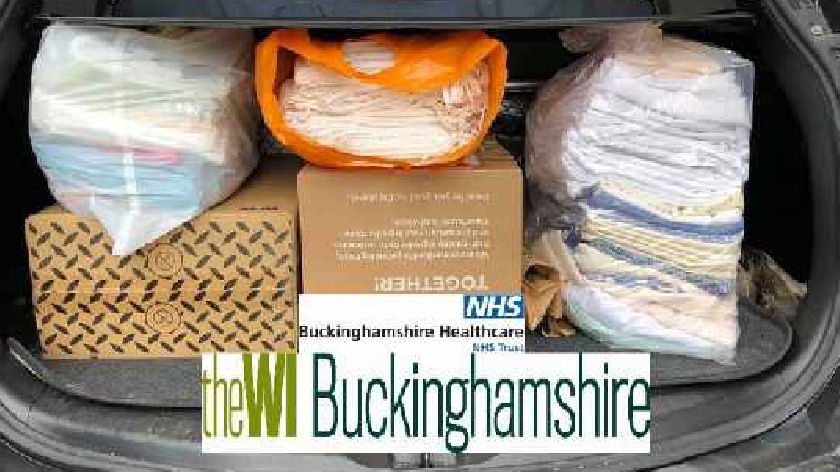 Buckinghamshire Federation of Women's Institute transform unwanted sheets, pillowcases and tablecloths into over 6000 drawstring bags as well as countless button headbands to save sore ears in the NHS.
Just a week ago the Bucks Federation of Women's Institutes (WIs) Resilience Officer was contacted by Buckinghamshire Healthcare NHS Trust to ask for help with making laundry bags for NHS staff uniforms.
The word went out around the County to the 119 WIs and as if by magic fabric from unwanted sheets, pillowcases, tablecloths, and even from precious fabric stashes was transformed into over 6000 of the 75cm x 50cm drawstring bags, as well as countless button headbands to save sore ears in the NHS. WI Members and friends took out their sewing machines and set to with their "can do" attitude with some having to dust the machine down and re-learn how to use it!
The fabric drawstring bags will be used by NHS staff to remove their uniform scrubs into the clothing bag before they leave the hospital at the end of a shift The contents can then safely be transferred into a 60° wash at home thereby preventing cross contamination/infection from the Covid-19 virus.
At least 70 WIs participated, including those from Winslow, Gawcott, Beaconsfield, Speen, Chesham Bois, Thornborough Thornton, Sherington Belles, Aylesbury Town, WaterMead & Weedon, and Wendover Evening WI, amongst many others.
The Thornborough T&B WI President says, "I was overwhelmed with the generosity of local folk, inundated with sheets and pillowcases. It's been humbling and heartening to see how folk rallied round this task". She wanted to thank the donors as well as the sewing team. As she dropped the bags off at the collection point, one sprightly 94 year old local did her bit making 'I love NHS' bunting to hang on the tree at the end of her drive. Another member is being treated for breast cancer and was delighted to be able to "give something back" for the treatment that she is receiving.
Helping the Trust has addressed an urgent need in our community but also provided purpose for WI members at a difficult, isolating time.

The Buckinghamshire Federation of Women's Institute are so proud of all of their "sewists" for production of such vast numbers of laundry bags in response to this plea, and at such speed. Local hospital staff are already putting their drawstring bags to use.