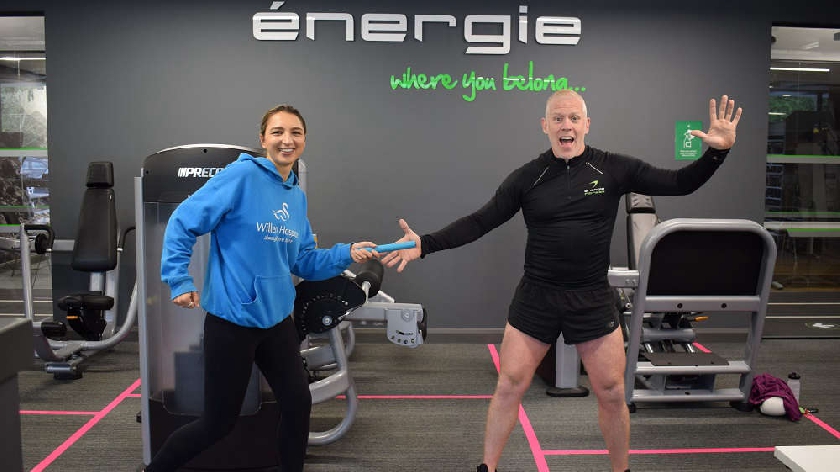 Image: Helen Winter from Willen Hospice, and Rob Francis, Co-Owners of energie Fitness MK
Local charity, Willen Hospice are excited to be holding their 48 Hour Relay on 13 – 15th May with Kiln Farm based gym, energie Fitness MK, and this year it has been re-energised!
Born out of lockdown in 2020, the 48 Hour Relay challenges local people to choose a 20, 40 or 60 minute time slot, completing a fitness activity before passing the 'baton' on to the next participant. The mission is to have all the spaces filled so the baton does not drop for the whole 48 hours.
After being held virtually for the past two years, the charity are pleased to hold this year's relay in person. The energie Fitness gym in Kiln Farm will be the 48 Hour Relay HQ for the weekend, and participants will have access to all of their gym equipment so they can choose to complete their time slot on a rowing machine, treadmill, exercise bike, and more. Participants call also take part virtually if they want to run their favourite route, or complete an activity at home.
Last year, the event raised almost £8,000. This could cover the total running cost of the Hospice In-Patient Unit for 48 hours. Organisers hope to raise just as much, if not more, for 2022.
Katrina Walsh, Willen Hospice Events, said: "We are so excited to be doing our 48 Hour Relay again with Claire and Rob from energie Fitness MK. This will be the first time we've done it 'in person' and we can't wait to meet all of the relay participants. It has not been an easy few years, but we hope the 48 Hour Relay will give people a much-needed boost, both physically and mentally, by getting their endorphins flowing and giving them the feel-good feeling of doing their bit for Willen Hospice. We are grateful to energie Fitness MK for giving participants access to their gym over the weekend so we can open the relay up to more people."
Claire, Co-Owner of energie Fitness based in Kiln Farm adds, "We hope that this year the event is bigger and better than ever! It is going to be so awesome to have people come and join us through the 48 hours at the gym or online, to either do their favourite exercise for their allotted time, or perhaps try something new! We will be running a full itinerary of classes and activities throughout the event so anyone taking part will have the support and encouragement of our amazing team and members!"
It is just £5 per 20 minute time slot to take part and participants can choose as many time slots as they would like. Participants are encouraged to gather sponsorship for their efforts.
Willen Hospice needs to raise £4.7M every year, £9 a minute, to continue providing care to patients at the end of their lives, or with life-limiting illnesses, as well as supporting their families. The pandemic caused a huge drop in fundraising income, and at the same time the Hospice have broadened their caseload to help relieve pressure on the NHS and support the community during the past two years.
Visit the Willen Hospice website to sign up to the challenge.