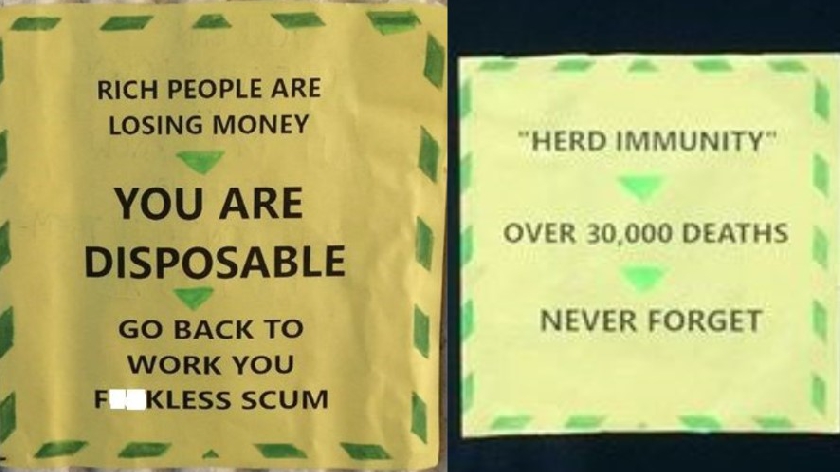 Posters with pro-lockdown political messaging on them have started to appear across Milton Keynes.
The wording on the handmade printouts mimic the Government's lockdown slogans, with the pages also being coloured in to resemble them.
Two of these posters have since been shared on social media after being spotted in Central Milton Keynes.
One poster, which reads "Rich people are losing money. You are disposable. Go back to work you feckless scum", is glued to an underpass between CMK Medical Centre and Rooksley.
A second poster has been spotted near to Milton Keynes Central railway station. It says "Herd immunity. Over 30,000 deaths. Never forget".
These pro-lockdown posters have since started a debate on social media. Some people have shown support for the posters, with one person saying: "The sad thing is... its true. I cant understand when we know we are 3 weeks behind europe, why we are coming out of lockdown. The virus is still out there killing hundreds a day. It's all about money and business."
On the other hand, some people disagree, with one resident adding: "What a load of tripe... rich people will never get rich without the poorer people working for them and making money, so why would they want them all gone? how are they going to make any money if all the workers have popped their clogs.....load of codswallop."
These posters have appeared in response to the Government's new lockdown rules. The Prime Minister has received criticism for being vague in regards to his "stay alert" coronavirus message, and telling people to go back to work if they cannot work from home.
Boris Johnson has since responded to the criticism and defended the new message. He said: "When you come to take small steps back to normality, as we are now, clearly the message becomes finer, more complicated".
He has also explained that the new coronavirus rules are that people who cannot work from home, such as builders or manufacturers, should go into work if it safe for them to do so.
Have you spotted a pro-lockdown poster in Milton Keynes? Let us know by emailing news@mkfm.com.